Community Health Volunteers (CHVs) success story
"My name is Josephine Musyawas and I would like to share out my experience as a TB and HIV patient, coupled by the fact that I am a CHV taking care of clients with the same condition as mine. I did not have HIV when I joined the community work, my passion was to help people in such condition, and little did I know that I would one day need such help. All in all, I was counseled and tested positive for HIV, I later diagnosed of tuberculosis. I was immediately put on ARV treatment and TB drugs.

I quickly got well, regained my strength and even added weight. This quick recovery misled me into believing that I was cured of both HIV and TB. During the process we separated with my partner who took my drug and card threw them away, I got depressed but as community health volunteer I tried by best to accept the situation although I stopped taking my medication. Within a year of my relapse, I started getting ill, I wanted to go back to the hospital for treatment but I was too embarrassed.

When my fellow Community Health Volunteer (CHV) and the Community Health Extension Worker (CHEW) heard of my plight, they tried to convince me to once more visit the hospital and resume treatment; but I was not ready to go back because of shame. They never gave up, they repeatedly came back to talk to me and convince me on the need to get to hospital. Given that I was very ill and weak, they also offered to transport me to and from the hospital, I received empathetic counseling, and convincing from one of my fellow CHVs, I agreed to go to hospital. My sputum was taken to the laboratory for investigation, and thereafter I was prescribed TB treatment that entailed daily drug administration for a period of six months; and follow up on care support treatment.
The food supplements flour that were provided by health facility, chief and DEK team to make sure that am okay. These food supplements were nourishing my body!! Within three months, I was stronger and able to go collect my TB drugs, ARVs, and food supplements. I am not as strong as I used to be, but I am definitely much better and able to undertake some household chores., I want to thank you all very much...thank my fellow community health volunteer namely Peninah Ndunge who supported like a sister all the time, the community health extension worker Lucy Ndinda, the doctors and nurses at Machakos Level 5 hospital and Deaf Empowerment Kenya Team, thank you very much. I encourage all the patients to cooperate with the doctors and take their drugs without failure! Do not wait until you are bed ridden to take medicine whether the drugs are for TB or for HIV!  I will continue to serve my community unit Kitanga as community health volunteer and make sure that  all my client are not ill because of defaulter cases I am a testimony to them and my community."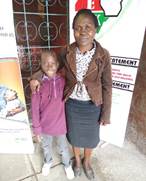 Filois Kutwa is a mother of two boys Paul Chechi who is nine and a half years, and Aaron Mwachi who is four years. Paul Chechi was born healthy unfortunately seven months later the mother detected that there was something wrong with the baby. He could not respond to calls as a normal baby would, this indeed made the mother to be concerned and she took him to see a doctor. The doctor reassured her she had nothing to worry about the child was ok. At one year of age Filois again took Paul to see an expert on ENT complications at the Kenyatta National hospital known to be the best hospital in and central Africa. He was done different tests including audiology tests that found he had a problem with his hearing.   
Paul and his Mum Filois at DEK offices
Since Paul got enrolled on into Thawabu primary school in the special unit in the year 2011, he has been able to perform well in class. Currently he is in class 3 where according to his mum and class teacher, he has been a hard working and very bright pupil.  At home he is industrious and as a firstborn very protective of his younger brother. He has even managed to teach his brother sign language and they communicate well since his brother has no problem with hearing. The irony of this story is that Filois faced opposition from her husband's family, who said that she will be giving birth to children with hearing disability and that was bad omen according to their cultural beliefs. To their surprise this was not true as the second born does not have any problem hearing.
 Asked how was she able to cope with her family in laws animosity, Filois says her husband's support has kept her going as well as the support of friends. Her biggest source of support also comes from institutions such as DCW through DEK Kenya who have taken time to educate parents on the causes of deafness, formed parents support group where she draws strength from other parents who undergoing similar challenges therefore she is consoled knowing she is not alone, The sign language classes held at Thawabu primary school where she is taught by the DEK supported teacher has learned how to communicate with Paul and follow his progress in class. Filois advises parents of deaf children especially in places where there is a lot of myths and misconceptions, to take their deaf children to school so that they can get an education and become independent in the future to choose any career they envision. 

Since their disability is not visible, they are bound to lack employment and get involved in detrimental activities or end up as beggars on the streets. Learning sign language has brought her closer to her child this was like a miracle to be able to speak with her hands. She says a child who is deaf is no different from any other once you remove the communication barrier and she loves both her sons equally.
 
Alongside is Paul with his buddy doing a poem in Kenyan Sign Language